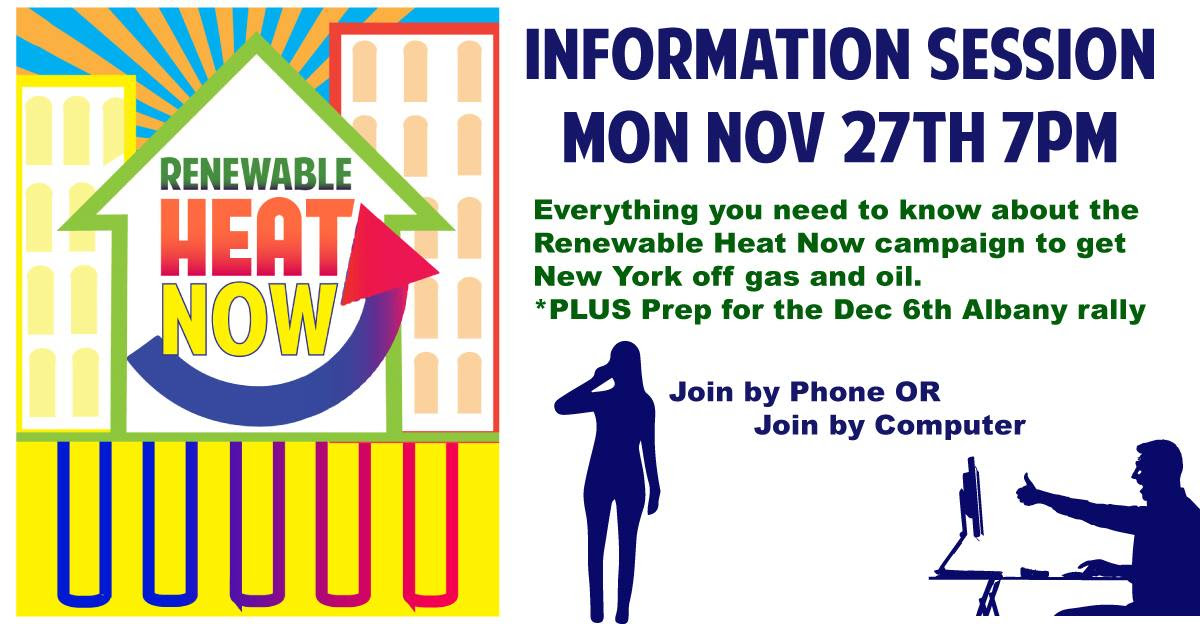 Entering the next phase of the campaign, we invite you to join us for a Renewable Heat Now Information Session Monday, November 27 at 7PM.  We'll brief you on campaign details and goals; review ground-source (geothermal) & air-source efficient-electric heat pumps and why they're a great heating & cooling solution for New York; and discuss the plan for the December 6th Rally and Press Conference in Albany.
Join via Computer: https://zoom.us/j/460764648
or by Telephone: (646) 558 8656 or (669) 900 6833
Meeting ID: 460 764 648
The culmination of the Renewable Heat Now public workshop tour is the
December 6 Rally and Press Conference in Albany. It will take place at noon on the Million Dollar Staircase. We are assembling a powerful line-up of speakers to present our platform, and we are circulating two on-line petitions for individuals to sign. Petitions will be delivered to Governor Cuomo on the day of the rally, and there will be an opportunity to deliver information packets to state legislators after the rally.
Please take a minute today to sign the two important petitions we will deliver to Governor Cuomo.  BOTH are important, and Thanksgiving weekend is a perfect time to recruit family and friends for signatures.
The first petition is the Petition for Affordable Renewable Heat in NY.
The second is the Petition to Stop the Sheridan Hollow Fracked Gas Power Plant, urging the Empire State Plaza to go geothermal instead.
Please forward this e-blast to your groups and networks!
December 6 is approaching fast. Let's fill the Million Dollar Staircase because warming our homes should not require warming the planet!
All our best,
The Renewable Heat Now campaign: Alliance for a Green Economy, Frack Action, HeatSmart Tompkins, NY-GEO, New Yorkers for Clean Power, and Sane Energy Project