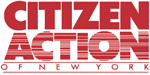 Just as the days are getting shorter, Central Hudson has released a proposal for the coming year that, if approved, could lead to a rate hike of 7.5-11.6%, along with a handful of dubious double-digit charges that threaten to devastate the many who already struggle to keep their lights on — let alone their stove tops, breast pumps, and nebulizers.
Hudson Valley residents are already charged the highest utility rates in New York State, and we refuse to let corporate greed leave our neighbors in the dark.
You are encouraged to come speak out at Kingston City Hall tomorrow,Tuesday, October 10th. Information sessions will be held at 2 p.m. and 6 p.m., followed respectively  by public hearings at 3 and 7 p.m.
Only have a few minutes? The NYS Department of Public Service has a quick-to-access comment page, and Citizens for Local Power has made this handy shareable FAQ. Thank you for stepping up even when you can't head out!
In Solidarity,
Citizen Action of the Hudson Valley